Download MP3 Converter Now
MP3 Converter
Convert Audio & Video Files to MP3, Download MP3 Converter Now!
MP3 Converter
If you're an MP3 player junkie, or just like listening to lots of digital music, you'll want to know about a new little mp3 converter that does something most other converters just cannot do. It converts video and music to MP3.
In fact, MP3 Converter can convert whatever media file you have. But that's just the start for what is a very cool little MP3 Converter.
FREE Download MP3 Converter
Register MP3 Converter - Only $29.95 USD!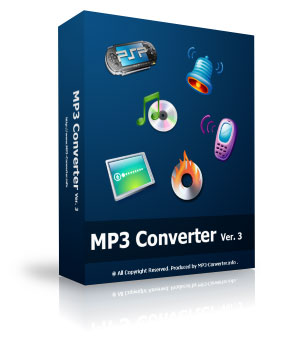 Name:
MP3 Converter
Version:
V4
OS:
2000/XP/2003/Vista
Size:
2.7MB
Type:
Shareware
Price: $29.95 USD
Description:
MP3 Converter is an easy-to-use all to mp3 converter. With MP3 Converter you can convert no matter video files or audio files to MP3 format. MP3 Converter supports WAV, WMA, AVI, WMV, MOV, 3GP, MP4, FLV, VOB, DAT, MPEG...