Download MP3 Converter Now
MP3 Converter
Convert Audio & Video Files to MP3, Download MP3 Converter Now!
MP3 Converter
If you're an MP3 player junkie, or just like listening to lots of digital music, you'll want to know about a new little mp3 converter that does something most other converters just cannot do. It converts video and music to MP3.
In fact, MP3 Converter can convert whatever media file you have. But that's just the start for what is a very cool little MP3 Converter.
FREE Download MP3 Converter
MP3 Converter Articles
Convert Anything to MP3
All to MP3 Converter
More MP3 Converter Articles
All to MP3 Converter
Which software would you choose for performing a single habitual task knowing exactly what you want to get as the result? Would you be looking for a complex, versatile, multi-functional application with hundreds of options to choose from? That's quite improbable. You would rather have a compact tool that would do the job quickly, efficiently and with a bare minimum of input from you, which is a natural desire. Fortunately, despite the abundance of MP3 encoding programs on the market, there are some that can still surprise you. If you are looking for an ultra-fast, compact and affordable MP3 encoder that will save your time and always demonstrate excellent results, check out
MP3 Converter
!
An unusually efficient and easy-to-use application with an unusual name,
MP3 Converter
allows you to convert your music and videos in virtually any popular format - WAV, WMA, ASF, RA, RM, VQF, CDA, OGG, AVI, WMV, MOV, 3GP, MP4, FLV, RMVB, VOB, DAT, MPEG, VCD, DVD and others — into MP3. It even supports YouTube videos, so you can convert them to MP3 and then play them on your iPod, iPhone, PSP or cell phone. The process is extremely simple. Set the encoding options (bitrate, rate, number of channels), specify the output path and then simply drag and drop one or several music files onto the drop area of the application. That's it! You can now go make yourself a cup of coffee or lean back and watch
MP3 Converter
process your files!
MP3 Converter
is affordable, compact, fun to use and, most importantly, it does usual things in an unusual way. Check it out and you'll soon find out that it's true!
MP3 Converter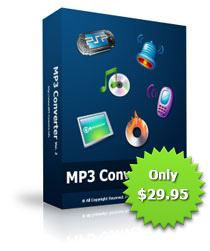 Name:
MP3 Converter
OS:
2000/XP/2003/Vista
Size:
2.7MB
Type:
Shareware
Price:
$29.95 USD
Description:
MP3 Converter is an easy-to-use all to mp3 converter. With MP3 Converter you can convert no matter video files or audio files to MP3 format. MP3 Converter supports WAV, WMA, AVI, WMV, MOV, 3GP, MP4, FLV, VOB, DAT, MPEG...